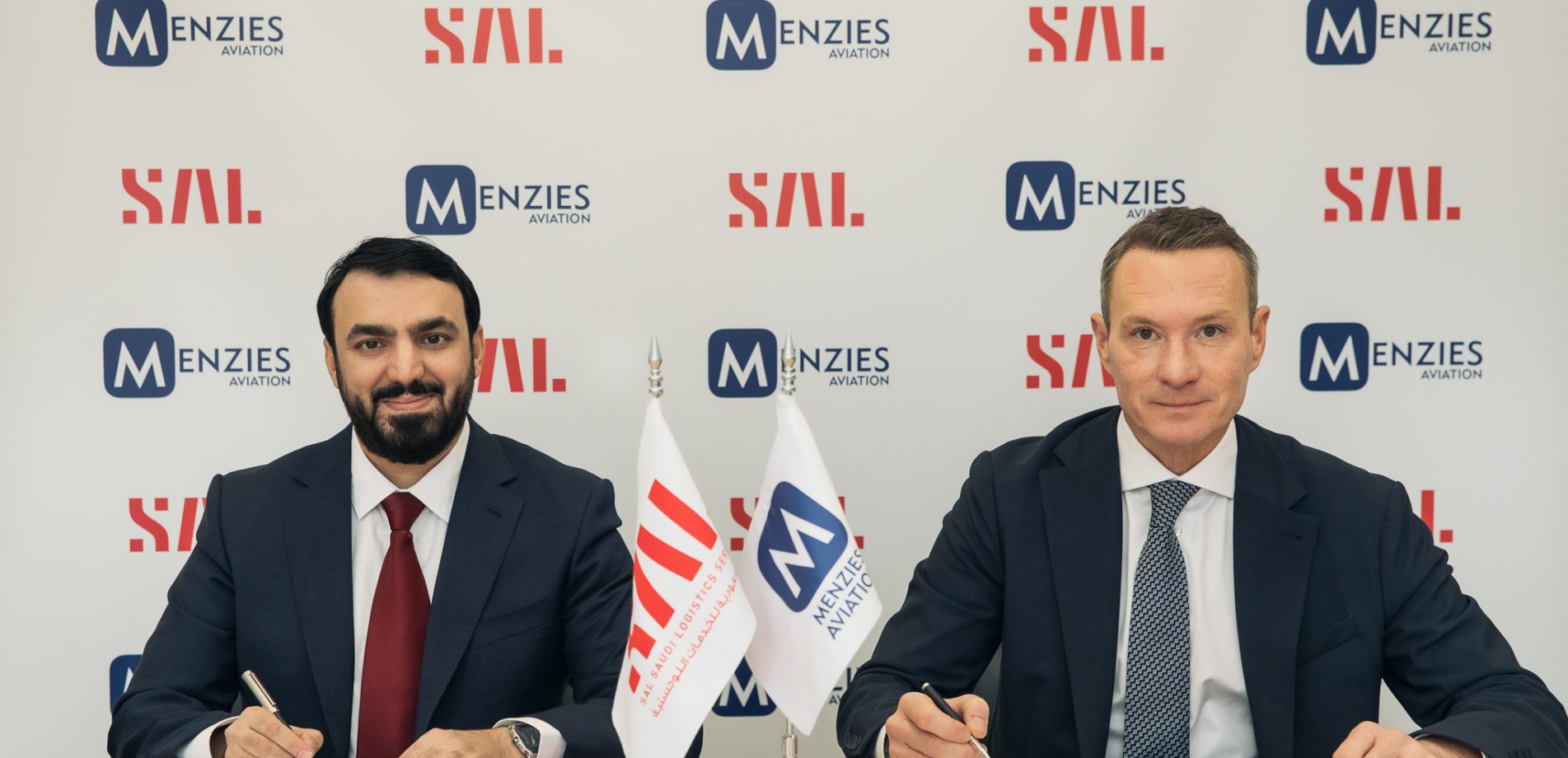 SAL Saudi Logistics Services and Menzies Aviation sign MoU to collaboratively deliver world-class passenger handling services for low-cost carriers at Saudi airports
27/01/23
SAL Saudi Logistics Services and Menzies Aviation have signed a Memorandum of Understanding to develop a comprehensive study on delivering best in class passenger handling services for low-cost carriers at Saudi Arabia airports.
Under the MoU, Menzies Aviation and SAL Saudi Logistics Services will work together to explore the potential of providing passenger handling services for low-cost carriers at Saudi's airports with the aim of implementing industry best practice to improve passenger services, enhance the efficiency of operations, and support the Kingdom's Vision 2030 targets associated with upgrading and developing airport services to be on par with the world's leading and most advanced international airports.
SAL Saudi Logistics Services is the market leading air cargo handler in the Kingdom of Saudi Arabia and recently obtained a license to provide ground handling services in Saudi airports from the General Authority of Civil Aviation (GACA), enabling the company to continue offering high quality, professional logistics services at the Kingdom's airports.
Menzies Aviation is the world's largest aviation services company with operations at more than 250 airports in 58 countries. It provides ground services, fuel services and air cargo services.
Emphasizing the importance of the agreement with Menzies, Mr. Faisal AlBedah, Managing Director and CEO of SAL Saudi Logistics Services, stated: "This MoU will enable SAL to utilize Menzies' global capabilities and expertise. It is also aligned with our ambitious vision to become the logistics champion for a globally connected Saudi Arabia. We believe the MoU will result in significant improvements in Saudi's airport services, increasing capacity and enhancing the customer experience and satisfaction, in line with the highest international safety and security standards."
"Our approach complements the National Transport and Logistics Strategy, in parallel with the Kingdom's Vision 2030 towards welcoming 330 million travelers by 2030," AlBedah explained. "This will be achieved by offering cutting-edge innovation, integrated logistics services in airports and building a wide network linking domestic airports, seaports and land transport hubs to ensure the ongoing development of this vital sector and increase its contribution to the Saudi GDP, as well as driving the national economy in light of the Kingdom's ambitious vision."
Philipp Joeinig, CEO, Menzies Aviation, said: "This collaboration has huge potential not only for our businesses, but for the country's aviation industry more broadly as the Saudi 2030 vision aims to increase passenger numbers significantly by the end of this decade. The agreement strengthens our position and relationships in the Middle East, which is a key market for Menzies as we look to accelerate our growth and bring the highest standards of aviation services to countries all over the world. I would like to thank Mr AlBedah and the team at SAL for the opportunity to work together and explore how we can help unlock the potential of Saudi's airports."
A leading national provider offering end-to-end logistics services, SAL Saudi Logistics Services key areas of expertise include cargo handling for numerous airlines operating in Saudi airports, in addition to providing comprehensive logistic solutions to its partners in other sectors, including sports, entertainment, culture and arts. This aligns with the Kingdom's Vision 2030, which gives special attention to this vital sector and prioritizes the Kingdom's transformation into a global logistics hub and an international center for cargo and shipping services.