Our plan for a fair & sustainable future
We recognise the world is changing and we must adapt and act to face immediate and emerging challenges and increased expectations from our stakeholders and global communities. We are committed to continually evolving and ensuring we operate and grow our business responsibly and sustainably.
We are All In
All In is our plan to make a positive difference in a changing world for our people, communities and the planet. It takes us towards our 200th anniversary in 2033 and a fairer greener world.
It's at the heart of our purpose to provide safe and trusted aviation services, now and for the future. We'll work closely with our industry partners, customers and suppliers to get to where we need to go.
We'll engage and inspire our people because we believe everyone can make a positive difference. From simple local actions to big global initiatives and everything in between. We are All In.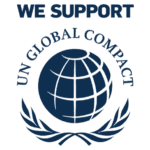 Menzies is proud to be a signatory of the UN Global Compact. As part of our commitment to sustainable and responsible business practices, Menzies is committed to aligning strategies and operations with ten universal principles on human rights, labour, environment, and anti-corruption, and take actions that advance societal goals, particularly the Sustainable Development Goals.
We are pleased to share our first UN Global Compact Communication on Progress. Together with our Annual Report and Accounts 2021 and Modern Slavery Report, our CoP details our progress towards supporting the UN Global Compact Principles and UN Sustainable Development Goals.
The Environment
With global aviation responsible for around 2% of global carbon emissions human produced, we know it's important that the ground services industry play its part in protecting the planet for the future.
We have a long term plan to protect the environment and support the climate.
We commit to:
To be carbon neutral before our 200th birthday in 2033
Invest in measurement, reporting and technology to make zero aviation fuel spills our daily target throughout the business
Support the climate change agenda through an environmental management system and becoming a signatory to the UN Global compact
People
With colleagues working and living in 58 countries on six continents, we have a big opportunity to help create a future where equality, inclusion and fairness are experienced by all.
We will offer training and development opportunities to all colleagues and champion a diverse workforce where everyone can thrive. We will also focus on both mental and physical wellbeing of all our people.
We commit to:
Optimise operational training to create the same high standards across our network
Increase development opportunities for our management team
Improve our engagement with our workforce especially those who are hard to reach
Build a diverse and balanced workforce and leadership team
Safety
We have 35,000 committed and professional colleagues around the world working in busy airports which can be hazardous if the correct safety procedures are not followed every minute of every hour. Our top priority is to ensure they return home safely at the end of every day.
We commit to:
Improve reporting capability and training to ensure we target zero injuries every hour of every day
Invest in technology and engage our employees to target zero damage to aircraft always
Promote an effective and just safety culture through our MORSE code and charter.
Legal & ethical business
We do business in 58 countries across six continents, and we aim to adopt the highest (ethical business and governance) standards everywhere we operate.
We commit to:
Zero tolerance for all forms of bribery and corruption within our business and supply chains.
Ensuring sustainable and ethical supply chains and partnerships everywhere we operate.
Operating in full compliance with applicable legislation, ensuring strong ethical and governance practices are up to date, relevant and adhered to.
Continuous improvement of the confidentiality, integrity and availability of Menzies systems, data and services.
Communities
With operations and colleagues working in more than 250 locations across the globe, we recognise the opportunity our global reach brings to contribute to the lives of all those who live in our local communities.
We commit to:
Supporting local & global supply chains and ensuring ethical business practices
Running local recruitment initiatives
Offering support to national and local charities
Encouraging our teams to support local initiatives
Developing our sustainability strategy