Our plan for a fair & sustainable future
We recognise the world is changing and we must adapt and act to face immediate and emerging challenges and increased expectations from our stakeholders and global communities. We are committed to continually evolving and ensuring we operate and grow our business responsibly and sustainably.
We are All In
Our All In plan is designed to drive positive change and progress of our material ESG priorities. Menzies is a proud signatory of the UN Global Compact and our All In plan aligns with seven of the UN Sustainable Development Goals.
It's at the heart of our purpose to provide safe and trusted aviation services, now and for the future. We'll work closely with our industry partners, customers and suppliers to get to where we need to go.
We'll engage and inspire our people because we believe everyone can make a positive difference. From simple local actions to big global initiatives and everything in between. We are All In.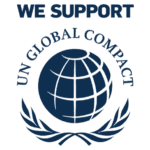 Menzies is proud to be a signatory of the UN Global Compact. As part of our commitment to sustainable and responsible business practices, Menzies is committed to aligning strategies and operations with ten universal principles on human rights, labour, environment, and anti-corruption, and take actions that advance societal goals, particularly the Sustainable Development Goals.
We are pleased to share our first UN Global Compact Communication on Progress (CoP). Together with our 2022 Annual Review & Sustainability Report and Modern Slavery Report, our CoP details our progress towards supporting the UN Global Compact Principles and UN Sustainable Development Goals.