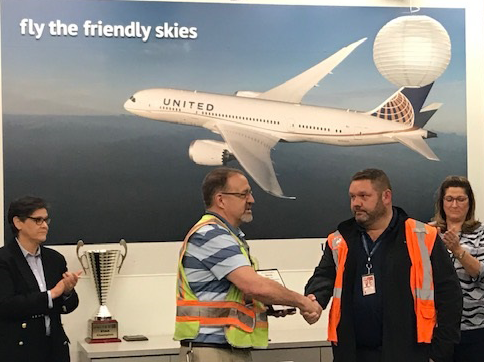 United Silver Safety Award for Tulsa
16/04/19
United Airlines have presented the Menzies team in Tulsa, Oklahoma with a Silver Safety Award.
United's Safety Excellence Program aims to reduce injuries and aircraft damage. While all United Airlines locations are encouraged to participate, only sites that meet specific criteria are granted an award.
In addition, the airline presented a plaque which recognised Menzies Aviation's contribution to their Safety Excellence Programme at the airport.
Keith Burnight, United Station Manager – TUL, presented Max Thornton, TUL General Manager, with the award.
Max said: "Menzies Aviation in Tulsa proudly partners with United Airlines in our mutual commitment to safety. I'm very proud of the team here, whose hard work has resulted in over seven years without an aircraft incident."