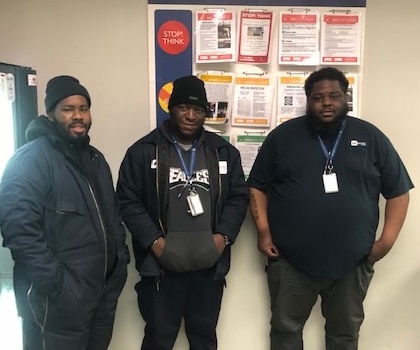 Menzies trio keep safety standards high in Philadelphia
16/04/19
Three Menzies employees at Philadelphia International Airport (PHL) were congratulated recently for their quick thinking and attention to detail while at work on the ramp.
Menzies PHL run an employee acknowledgment programme, in which workers are encouraged to identify and report any damage already present upon an aircraft's arrival at the airport.
While servicing a Spirit aircraft, Trainer Rashi Smith, Trainee Maurice Bailey and Supervisor Keith Young noticed a problem with the aircraft's fuel panel door. They reported the problem and aircraft maintenance teams fixed the aircraft safely and quickly.
Brian Gillin, General Manager PHL said: "I'd like to once again thank Rashi, Maurice and Keith for their actions. This is a station-wide initiative, and we hope to have continued success in observing anything out of the ordinary, further developing our reputation for good work and conscientious staff."