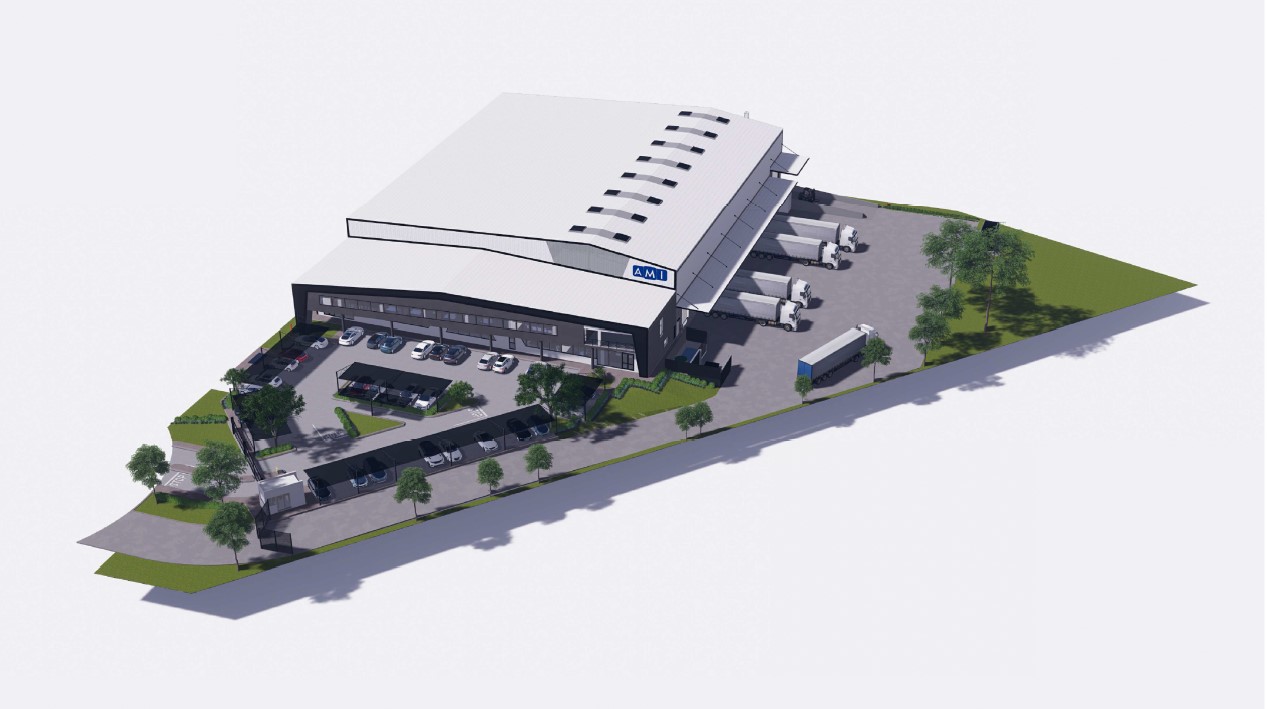 AMI invests in new purpose-built facility in Johannesburg
13/06/23
Air Menzies International (AMI), a leading global wholesale freight forwarder and part of Menzies Aviation, today announces its investment in a new, purpose-built facility in Johannesburg, South Africa.
Located less than a kilometre from O.R. Tambo International Airport, the new facility will replace AMI's existing branch on Aviation Park, Pomona. The move which is scheduled for September 2023 will increase capacity, improve efficiency and support long-term growth in the region.
The new facility contains a 47,500 square-foot warehouse, significantly increasing the company's freight capacity. The introduction of a new, off-airport airfreight de-group warehouse for import customers will add to the wider range of freight services already on offer to the southern African market. From the opening date, the new facility will be fully compliant with the relevant regulations from the South African Civil Aviation Authority, including Part 108, requiring all screening to be done on site.

Built to offer more sustainable operations, solar panels installed on the roof of the building will produce up to 80 per cent of the facility's electricity demand and energy-efficient equipment, such as electric forklifts, will operate in the warehouse. Increased security has also been considered and the warehouse and office premises will be fully secured with 24/7 security and CCTV.
This new facility will complement planned upgrades to the company's existing perishable division in Johannesburg, located at O.R. Tambo International Airport's Foreign Airlines Terminal. This on-airport specialist facility will increase in size by over 4,300 square-feet, greatly enhancing its controlled-temperature storage capacity. Customers will also benefit from new services, including variable temperature control for multiple perishable commodities.
Jonathan Clark, CEO, AMI, said: "We continue to see strong growth in our air freight services in South Africa which has led to increased demand from customers.  Our new building gives us increased capacity and modern facilities that will enhance the services we offer to existing and new customers while strengthening our position in the market.
"The strategic location of the new facility will make a substantial difference to our operational efficiency. Together with the planned upgrades to our on-airport specialist facility, it will also help facilitate the movement of exports and imports to our other branches in South Africa, in particular Cape Town, where many perishable and temperature sensitive goods are sourced. It's an exciting time for the team and we look forward to entering this important next phase of the company's development."
Milton French, SVP Africa, AMI said "This investment, combined with our expert know-how of exports, imports and our specialist Perishable Division, will enable us to provide a unique offering to our customers that delivers a full suite of logistics services."